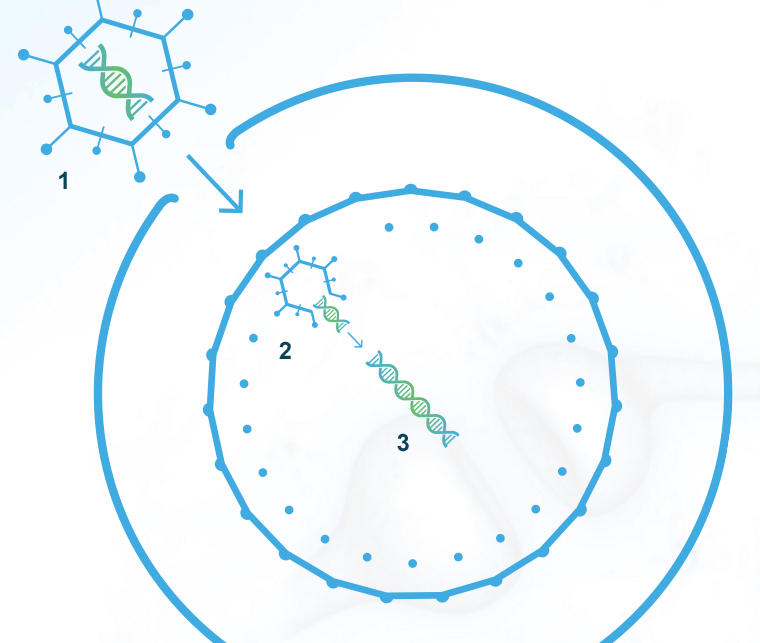 Gene therapy is a well-suited approach for the treatment of SMA due to the monogenic nature of the disease—meaning it's caused by the deletion of or mutations in a single gene. AVXS-101 is our clinical-stage, proprietary gene therapy candidate of a one-time, intravenous treatment for SMA Type 1—designed to prevent further muscle degeneration caused by SMA through:
Delivery of a fully functional human SMN gene into target motor neuron cells
Production of sufficient levels of SMN protein required to improve motor neuron function
Rapid onset of effect in addition to sustained SMN protein expression
The clinical stage gene therapy firm develops treatments for rare and life-threatening genetic neurological disorders. Its lead product candidate is Phase 1-stage, Fast Track- and Orphan Drug-tagged AVXS-101 for the treatment spinal muscular atrophy (SMA) Type 1, caused by a defect in the SMN1 gene. SMA Type 1 is the leading genetic cause of infant mortality. It occurs in one in 10K live births.AVXS-101 delivers a fully functional SMN gene into target motor neuron cells via a non-replicating adeno-associated virus capsid (protein shell of a virus), called AAV9, without modifying the existing DNA of the patient. AAV9, unlike other capsids, crosses the blood-brain barrier, enabling intravenous administration.The company intends to dialogue with the FDA in the coming months to discuss a development path for AVXS-101 for the treatment of SMA Type 1. If all goes well, pivotal trials supporting marketing applications may be initiated in H1 2017.
https://avexis.com/research-and-development